thpethial: 1. dithtinguithing; 2. dethigned or formed for a particular purpothe; 3. thpecific; 4. different from otherth, uncommon; 5 dithtinctive, exthepthional . . .
this page, the spotlight, is here for the sole purpose of honouring those who i feel deserve to be honoured. those who i can say are truly thpethial.
so in the spotlight i will probably include the following: picture(s), a biography, facts, links to other pages that honour the thpethial person, and more.
i'll try to change the spotlightee weekly, which probably means monthly.
---
because of all this winter olympic shnazzzzz going on right now, this week's (or month's) spotlight is going to be on Picabo Street. yes, she is a very, very thpethial person.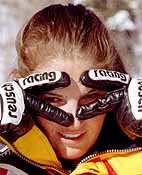 you'll have to excuse the content of this one.. it's kind of out of date, but i was rushing to get my page up, so nyarrrr. it'll improve.
---
(taken from Pic-a-Biography)
Occupation: US Olympic skier (gold & silver metals)
Height: 5'7''
Birthdate/place: April 3, 1971 - Triumph, Idaho
Family: Dad, Ron; Mom, Dee; Brother, Roland
Childhood ambition: "To be an Olympian, win a gold medal. Been a dream, now a goal."
Childhood role models: Tamara McKinney, Cristen Cooper ("Big-time role models. Once I met them, it was so cool. They're nomral people too.")
Early skiing memory: "I was so scared my whole way up the chair lift (first time). I finally went straight down the bunny hill, instead of going side-to-side." (age six)
Early skiing memory, part two: "I caught air off the cat track. When I landed on the powder, on my feet, they dug in. I went over my head and did a somersault. Completely over. My head hit the snow. I landed on my skis and skied away. My hat and goggles were left in the snow." (age 13)
First job: Housecleaning job with mom (age 11)
Greatest sprts moment: "When I won the silver medal at the World Championships (in Morioka, Japan) -- Combined (Downhill/slalom). It was over two days. I won the downhill. It was a surprise. I knew it would happen someday, just not as soon as it did."
Favourite mountain to ski: Sun Valley ("My hometown.")
Funniest skiers I've encountered: Kate Pace (Canada), Armin Assinger (Austria)
Favourite non-skiing sport to watch: Football
Favourite non-skiing sport to play: Volleyball
Favourite athletes to watch: Michael Jordan, Jackie Joyner-Kersee, Kjertl Aamodt (Norwegian skier), Karen Kemner (volleyball)
Biggest sports thrill: "Mary Lou Retton winning the gold medal. She went into the Olympics a favourite and she got the gold. That's hard to do." (age 13)
All-time favourite movies: Point Break ("Was pretty crazy."), Gone With the Wind, 9 1/2 Weeks
Favourite Hollywood personalities: Tom Cruise, Nicole Kidman ("I like them as a couple, think they're sweet.")
Favourite TV shows: The Love Connection ("It's a funny show."), Cosby, Cheers, Family Feud ("I like that show. I don't know why.") Favourite food: M&M's
Favourite breakfast cereal: Golden Grahams
Favourite ice cream flavour:Pralines and cream
Music I enjoy: Tina Turner ("One of my all-time favourites."), Dolly Parton, Reba McEntyre, James Taylor, LL Cool J, Shawn Kolvin, Guns and Roses, AC/DC, reggae (Inner Circle, Oswad)
First car: '93 dark blue Ford F350 one-ton truck ("I just bought it.")
Last Halloween costume: An Indian
Hobbies and interests: Fishing ("I like fish a lot."), music ("I'm learning to sing and play instruments."), so many things, my boyfriend, Mike Makar ("He's a hobby.")
People I most admire: "People who set goals and try to reach them. It's not always so easy to reach goals. People who go their whole life using that system -- setting goals and reaching them, then setting another goal and reaching that. And, of course, handicapped people. I have a friend who became paralyzed from the waist down from skiing. She has a lot of things that she has achieved. She still skis and she has a 4.0 at Standford."
Little-known fact: "I like Harleys. I want to have a Harley. I just think they're so cool, such a mellow beast -- so sweet. They look like fun to have. So old and unique, been around for a long time."
Fact: Picabo is the first American, male or female, to win a World Cup downhill ski title ('95 season overall).
---
wanna know more?
here are some links:
http://www.picabo.com
http://www.sierra.com/titles/ski/picabo.html*
http://www.mountainzone.com/olympics/nagano/street.html
http://www.alpworld.com/body/picabo.html